Thompson Building Wrecking Company
Established in 1961, Thompson Building Wrecking Company was founded by Edward G. Thompson, who started the small business in his home office while he was still working full time at SRS. His wife, Susan, admirably manned the phones and kept the business going before Edward grew the business, laying the foundation to where Thompson Building Wrecking is today.
Thompson has always been a family business. Edward's children all worked for the company starting in the 1960's, and one of his sons, Hiram, took over when Edward sadly passed away in 1993. Now Hiram's sons, Marcus and Tyson Thompson, lead one of the largest demolition contracting company in the southeast.
A cornerstone of the community for over 60 years now, Thompson Building Wrecking Company boasts a long history of exceptional work through Georgia and the Southeast. We look forward to serving the Southeast for generations to come.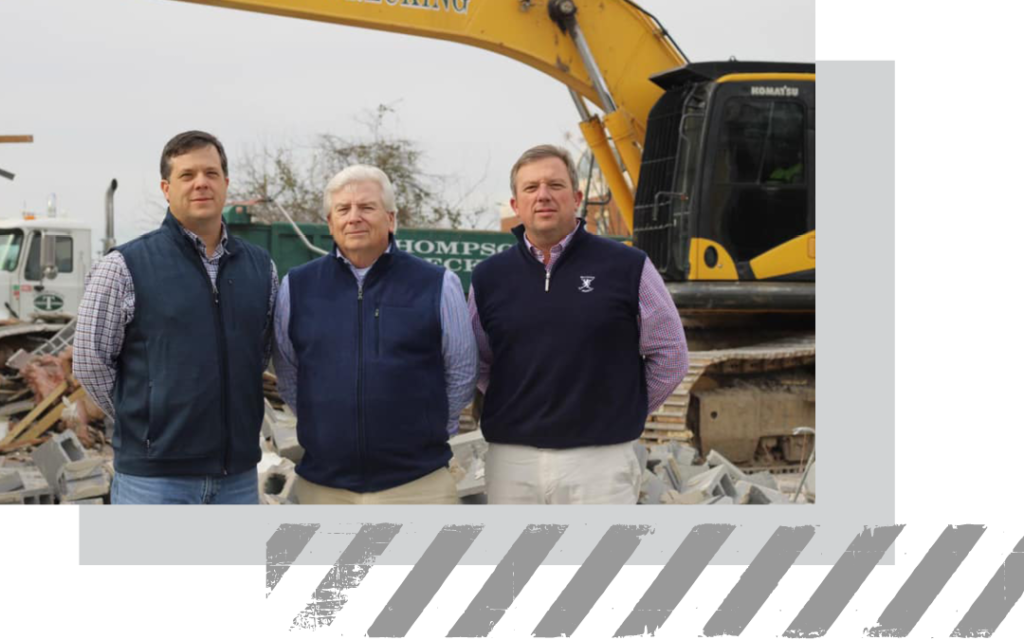 OUR MISSION STATEMENT
Our Mission is at the heart of TBWC. Our Four Core Values that help guide our culture are: Honor God, Serve People, Deliver Excellence, and Grow Profitability.
Honor God: We live and work with integrity, respect, and compassion through our actions and decisions, because we choose to walk with grace and humility.
Serve People: We pursue in helping our clients in the work that we perform by being diligent in all commitments.
Deliver Excellence: We give our best efforts, our best motivation, our best service, and our best creativity, always striving to exceed expectations.
Grow Profitability: We earn rewards by managing all resources efficiently and responsibly; because we care about all resources, we work to grow and give as a result