Trained and equipped to handle all levels demolition.
Thompson Building Wrecking Company is specially trained and equipped to handle all levels demolition, from small residential properties to large retail spaces. We have not run across a job in over 60 years that we have not been able to accomplish.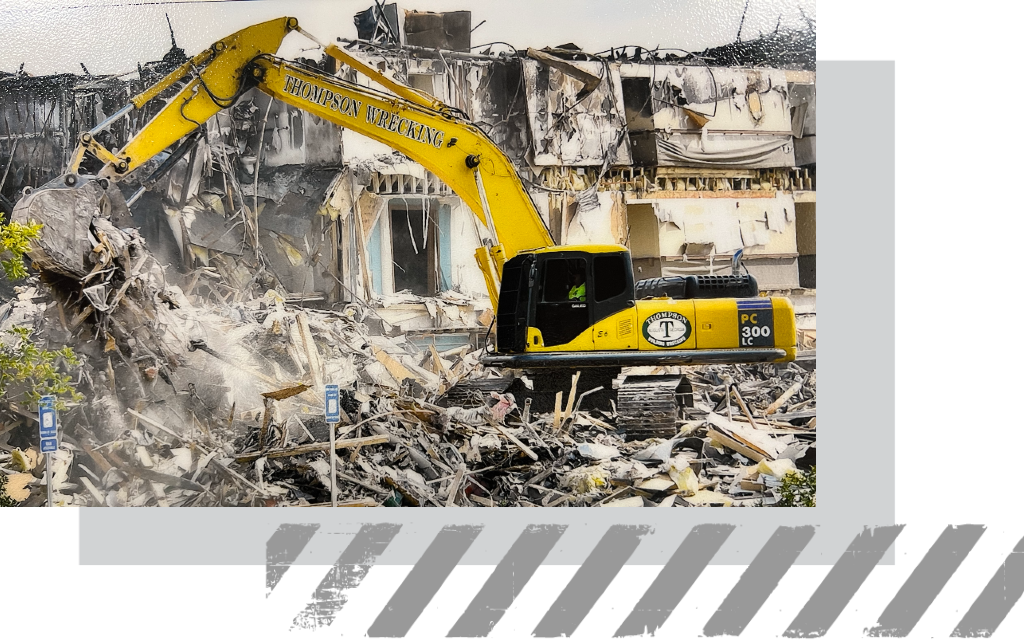 Throughout our process, we will guide the property owner through each step, allowing you to be at ease. We also take property lines into consideration and meticulously plan out each stage of the process.
WHY CHOOSE THOMPSON BUILDING WRECKING COMPANY
Choosing a qualified, reliable demolition contractor is incredibly important. We carefully plan and organize every demolition project, making sure we have the proper permits and equipment. We use only the most state-of-the-art tools and equipment for the job, giving you the smoothest and safest demolition possible.
SAFETY FIRST
At Thompson Building Wrecking Company, we are fully committed to following safety guidelines set by the Occupational Safety and Health Administration (OSHA) and the Environmental Protection Agency (EPA). Strictly adhering to these guidelines are first and foremost the most important part of any demolition job we undertake.
Our safety-first mentality motivates us to run a clean site, adhering to all federal and state laws and guidelines when it comes to demolishing a home or business.
DEMOLITION SERVICES IN THE CSRA
Our decades of experience in the demolition industry makes us the best choice you can make for your demolition project in the CSRA. Contact us today to get started on your demolition project today.
Family owned company that's extremely professional. Down to earth people who get the job done.